Podcast: Play in new window | Download (Duration: 2:08:27 — 117.6MB) | Embed
Subscribe: Apple Podcasts | Email | RSS
In this episode: CHP Provides Commissioner Oath, But Objects to Request for Peace Officer Status; Scott County Iowa Locals Take Low Risk High Reward w Periscope at Public Meetings; No Agenda Show Gets Close on Administrative State; Experimental Jurisprudence in 1933 and the New Deal; Is the CBD Oil Ban Real and Could Banning CBD Inspire Soccer Mom's to Move Domicile Out of DC and Into Article IV Statehood?; Alfred Adask's 2008 Discover that Feds See US Citizens as "Animals"; Article IV State ID vs Common Law ID; Who Created ISIS? Hayden Lays Out It's All About Oil, and US Sent Crisis Team to Brussels Weeks Ago?
IDEA: Show Up & Use Periscope
From @LibertyCommand publisher Michael Elliott
We visit the Scott County Board on 3/10/16 and live stream the meeting with the Periscope app because some members of the board believed it to be too expensive to do such a thing for the public. Well we proved it's not only cheap but easy as well!

Scott County, Iowa Planning & Zoning Change Fascist?
Bigger is not necessarily better with economic development. Mega-sites are almost always an unholy alliance between big business and big government, both heavily subsidized by taxpayers. The industrial operators, colluding with the state and county in this case, are the only meaningful financial beneficiaries.
Full story: http://www.rcreader.com/commentary/industrial-spot-zoning-would-carry-hefty-price-tag/
Hey, FDR was a fascist, too.
Oh, sure, it's true that much of FDR's New Deal was socialist, such as the federal pension plan – Social Security – that he permanently foisted onto the American people.

But let's not omit the other half of the story: Roosevelt also embraced economic fascism, especially in his efforts to get America out of the Great Depression.
Source: http://www.rcreader.com/commentary/fdr-was-a-fascist-too/
NoAgendaPlayer link to podcast cited, here.
Experimental Jurisprudence from 1933…Ding.
But vague though it is, perhaps this brief outline will serve, for present purposes, to describe the point of view of some of the men who are, at the moment, acting as humble servants of that master experimentalist, President Roosevelt.

Source: https://www.sec.gov/news/speech/1933/123033frank.pdf
California Secretary of State Produces California Highway Patrol Commissioner, Corey Accepts the 2008 Contract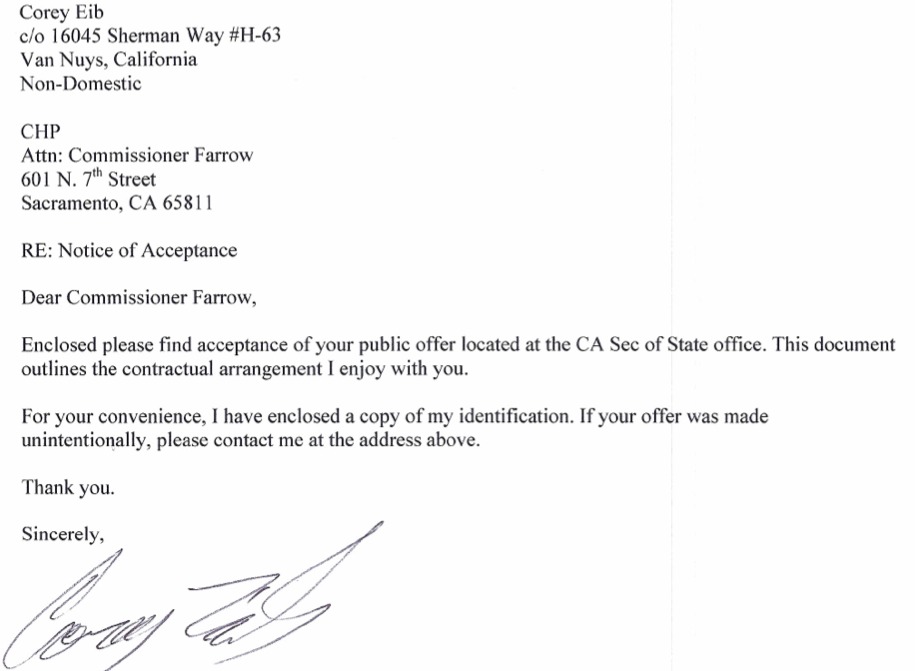 Meanwhile… CHP West Valley Commander Objects to Corey's Peace Officer Status Request

CBD Oil Not Banned by FDA?
This continues the FDA's ongoing battle against unapproved CBD products. In April of 2015, the FDA issued six similar warnings to companies with varying amounts of CBD.

Pain Bomb, one of the companies in question, was issued an FDA warning February 4th, 2016. Members of the FDA wrote "PainBomb violated the FDC [Food, Drug, and Cosmetic] Act by misbranding its products. The diseases for which PainBomb marketed its products cannot be self-diagnosed or self-treated by people other than health care professionals. For this reason, PainBomb's instruction labels informing users whether and how to use its products violate the FDC Act."

The Federal Food, Drug and Cosmetic Act, otherwise known as the FDC Act, requires scientific information to demonstrate that a drug is safe. Pain Bomb allegedly violated section 201(g)(1)(B) of the FDC Act [21 U.S.C. § 321(g)(1)(B)]. The FDA gave Pain Bomb only 15 business days to correct all foregoing violations.
Source: http://www.snopes.com/fda-outlaws-cbd-oils/
21 U.S.C. § 321(g)(1)(B) Cites US Citizens as Man or Other Animal
"The term "drug" means (A) articles recognized in the official United States Pharmacopoeia, official Homoeopathic Pharmacopoeia of the United States, or official National Formulary, or any supplement to any of them; and (B) articles intended for use in the diagnosis, cure, mitigation, treatment, or prevention of disease in man or other animals [emphasis added]; and (C) articles (other than food) intended to affect the structure or any function of the body of man or other animals [emphasis added]; and (D) articles intended for use as a component of any article specified in clause (A), (B), or (C). A food or dietary supplement for which a claim, subject to sections 343(r)(1)(B) and 343(r)(3) of this title or sections 343(r)(1)(B) and 343(r)(5)(D) of this title, is made in accordance with the requirements of section 343(r) of this title [emphasis added] is not a drug solely because the label or the labeling contains such a claim. A food, dietary ingredient, or dietary supplement for which a truthful and not misleading statement is made in accordance with section 343(r)(6) of this title is not a drug under clause (C) solely because the label or the labeling contains such a statement. [Bold emphasis added by Alfred Adask.]
Soure: https://adask.wordpress.com/2008/06/17/man-or-other-animals-1/
Michael Hayden Proposes American Intelligence Leviathan Tells ISIS: "You Move Oil, You Die."
C-SPAN video: http://www.c-span.org/video/?407240-1/conversation-former-nsa-cia-director-michael-hayden&start=1284
Where is the plan required by 2015 NDAA Congressional law for ISIS?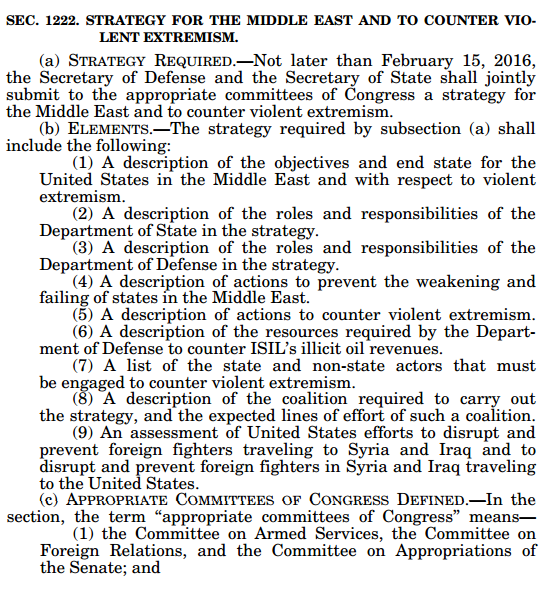 Who Founded ISIS?
US Sends Crisis Teams to Brussels Weeks Ago?