Podcast: Play in new window | Download (Duration: 37:30 — 22.1MB) | Embed
Subscribe: Apple Podcasts | Email | RSS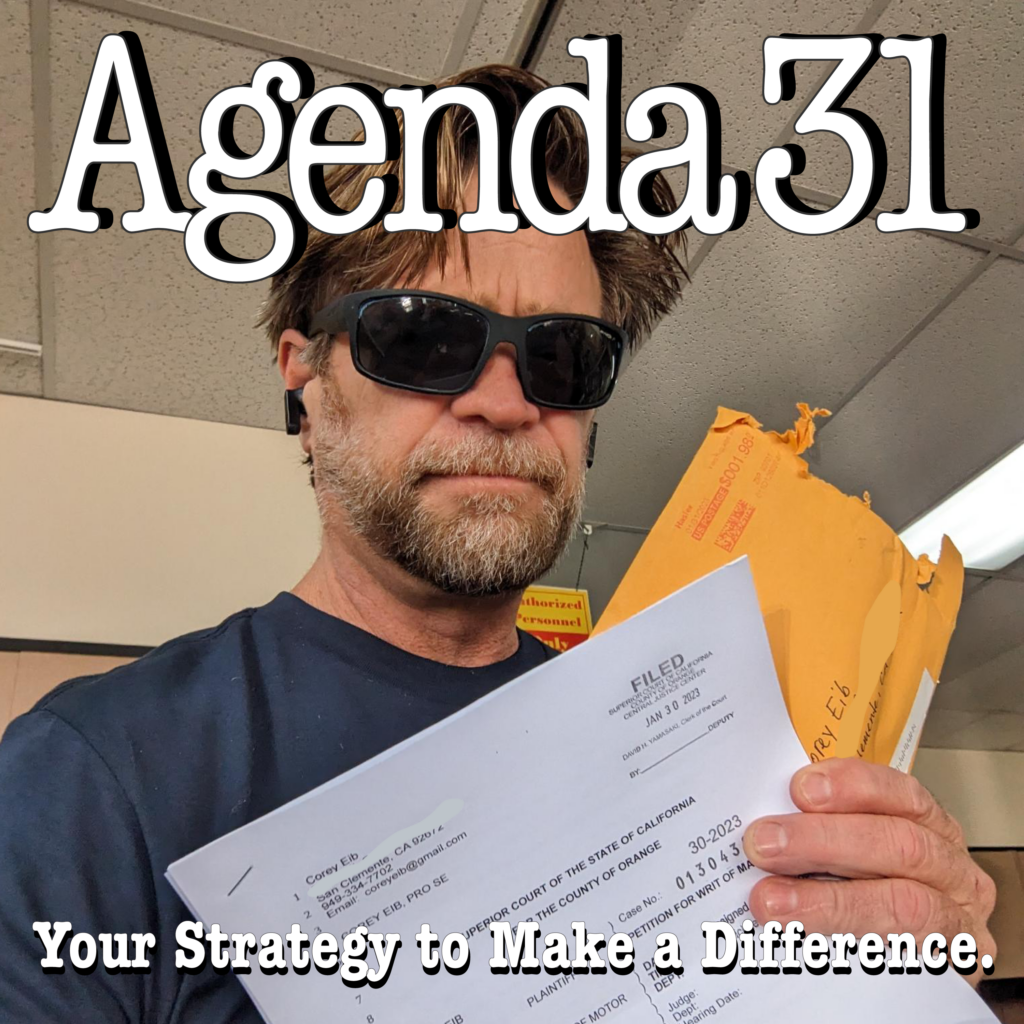 The Agenda31 REBOOT is live. 
NEW: Video playback for A31 Episode 136 – Click PLAY button below.
January 30, 2023 Corey filed an Unlimited Civil Case in the Superior Court of the State of California for the County of Orange. It is as a Writ of Mandamus to compel the California Department of Motor Vehicles to follow the court's orders to:
1. This court issue a writ of mandamus against the California Department of Motor Vehicles ordering the Department to close Petitioner's license account and destroy the license card currently in possession of Petitioner as the Department of Motor Vehicles Stated they did in the Department's letter dated February 16, 2010. (See Attached Exhibit A).
2. Order the California Department of Motor Vehicles to create an administrative process, hearing, or like process where citizens of the State can properly present their withdrawal of consent to participate in the license program.
Project 421 averring Article IV, Clause 2, Section 1 "state citizenship" status is back on. No effort to secure our rights and stop the tyranny is more critical than what Corey is pursuing in California right now. Agenda31 is here to document the journey and empower state citizens in all 3,100 counties in all the fifty states.
With this filing, Corey has flipped the script. Previously the Driver's License was a state citizen's kryptonite so to speak. One cannot be a state citizen and have consented to a DL. Since Corey was coerced to accept a DL, now the DL is kryptonite to the adversary.
Learn about the Faretta Waiver of rights and how Corey's treatment in the Orange County court system previously set the stage for this surgical effort today.
As of February 5, 2023, Corey has received confirmation his case has been filed by the Clerk and and a judge assigned to this case. From here Corey must serve notice to the DMV and compel their response to lead into a hearing.
In this podcast, the new Support Levels will help ensure Corey can reach the target outcomes to re-establish state citizens within the constitutionally guaranteed republic. This is NOT sovereign citizen nonsense, nor is it filing for a special passport as some projects seek to achieve.
"Pound for pound the best deal in the universe" to secure our rights, says Corey.
Please go to this page and choose your level: https://www.agenda31.org/sc3-state-citizen-supreme-court-subscription-club/
All supporters will be provided access to Corey's filings and have access to Corey and Todd for Q&A.
Please send all questions or comments to info@agenda31.org.